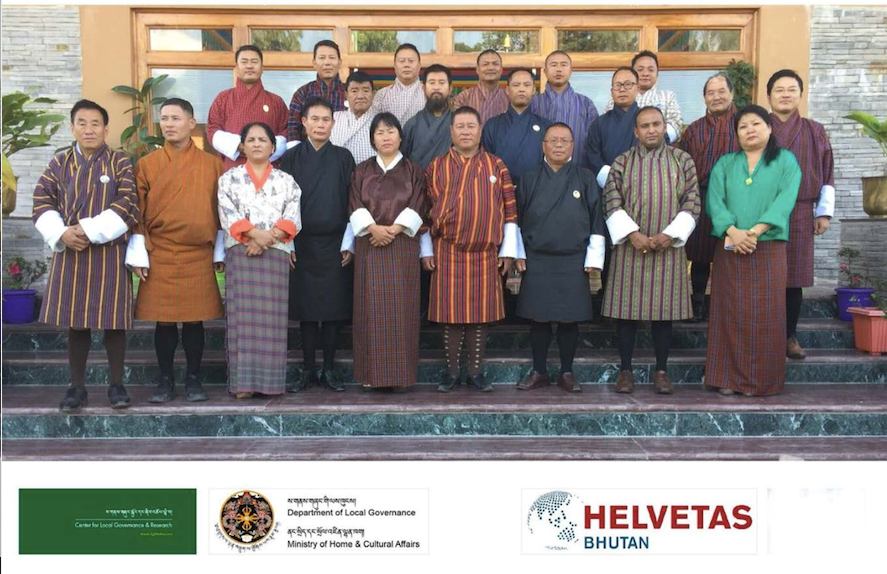 The Center for Local Governance and Research (CLG) recently completed delivering a 5 day training to LG members from November 25 to 29, 2019. DT Chairs, gups, mangmis from Haa, Trongsa, Tsirang, Trashigang dzongkhags and theumis Gelephu throm attended the training as the 1st cohort with us. This was an important milestone for us as we formally began engaging in the governance sector as in-country resource for local government capacity building.

The training comprising of several sessions introduced participants to the start of decentralization and the evolution of democracy and local governance in Bhutan. A quick analytical overview of the changes in the roles and responsibilities of local governments over the centuries to today. The relationship between elected leaders and administrative leaders at the local level was another focus area. Next, participants in groups, practiced provisions of the Local Government Act in conducting a session by relying on their memory. Procedural steps and requirements from setting a date to agenda to a chiwog zomdu were listed and explained, followed by revisiting relevant provisions in the rules. Participants also role played to mock a real LG session, trying to use concepts from provisions less used across LGs, DT chairs and gups were nudged to reflect of their roles in conducting sessions productively and enlarging public engagement. As an important stakeholder, the LG administrations' essential role of supporting implementation of policies and often unclear relationship with local governments were some of the issues that were discussed. In context of increasing financial decentralization, taking context of community contracting, led by facilitators, participants reflected on its intent and outcome.
The training was carried out under the Decentralization and Local Governance project led by the Department of Local Governance, Ministry of Home and Cultural Affairs with support from Helvetas Bhutan office.